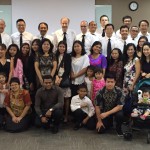 4th-16th October 2016. The New Apostolic Church is a global church. Its world-wide activity needs proper communication concepts and IT applications. The International Press-secretary, Bh. Peter Johanning and Erich Senn from Head Office in Switzerland visited Singapore for a 2 days workshop offered to NACSEAsia. Delegates from the Church offices in India, Korea, Taiwan, Philippines and Indonesia met for 2 days to learn new applications of Softwares like CenShare and  were also instructed on updates of the in house developed  OASYS (Overseas Administration System) The convention was concluded by attending the  divine service at Singapore congregation on Sunday.
Please note that from 5 Jun 2016, Divine Services in Singapore will be held at:
Singapore Human Resources Institute (SHRI)
2 Serangoon Road
Level 6 The Verge
Singapore 218227
(The Building name is The Verge, please see map for location)
MRT: Purple Line (North East Line) – Little India Station (NE 7), Exit C
MRT: Blue Line (Downtown Line) – Rochor Station (DT22), Exit B Continue reading →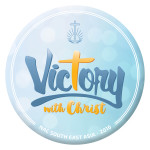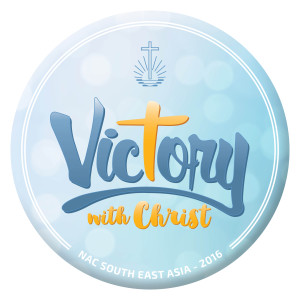 But thanks be to God, who gives us the victory through our Lord Jesus Christ!  
VICTORY WITH CHRIST. With this  message based on 1. Corinthians15:57 the Chief Apostle sets a powerful accent for the year 2016. With the Lord's promise Continue reading →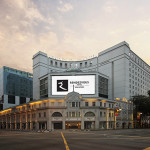 SINGAPORE WELCOMES CHIEF APOSTLE SCHNEIDER
Thursday, 26th June, 6 pm at RENDEZVOUS HOTEL
9 Bras Basah Rd
Singapore 189559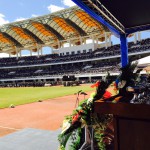 A true manifestation of JOYinCHRIST. Read more and see pictures at http://nac.today/en/208122 The core message of the Divine Service was about the word COME. "the Spirit and the bride, say Come!" Jesus used this word often, calling to follow Him. The true bride loves Christ and calls on Him to come. To come in every divine service and be among the two or three who gather in His name. He does come in the Holy Communion and the other sacraments and He will come on the day He appears for His bride. Let us pray more fervently than ever, what we express in the Lord's prayer" "Your Kingdom come" According to reports all locations in South East Asia got the connection via internet or satellite and the reception was very well. Some 13000 could be reached from Lusaka. May the magic word COME continue to inspire us to continue what our Brothers and Sisters after the first Pentecost did, they continued…..
"steadfastly in the apostles' doctrine and fellowship, in breaking of bread and in prayers"    Acts 2:42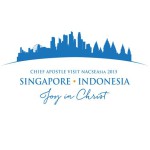 Dear Brothers & Sisters,
As it is widely known, this year's Chief Apostle Visit will be in Singapore and Indonesia. It goes without saying that all are invited however please understand we cannot make arrangements for everybody, yet of course all are welcome to attend the divine service by our Chief Apostle. The details follow: Continue reading →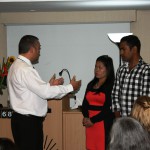 On 1.2.2015 Apostle Fred Wolf served the Singapore congregation with the word from Matthew 5:48
"Therefore you shall be perfect just as your Father in heaven is perfect."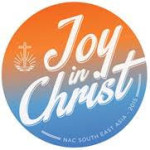 The 2015 motto in the New Apostolic Church is: JOY IN CHRIST.  Joy is the source of strength. Joy is energy. Where there is joy, no tiredness and no boredom comes up. When all are motivated by joy, there is LABOR IN LOVE because all are at work with love. Then giving becomes more blessed than receiving, and that is when THE KINGDOM OF GOD LIVES in us. May our joy in salvation, our joy in fellowship, our joy in serving, and our joy in daily life increase this year as we prepare for the return of the Lord! Continue reading →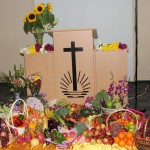 All New Apostolic congregations in the Philippines and throughout Asia celebrated Thanksgiving. Altars were decorated with crops and produce to mark the traditional customs of harvest thanksgiving.  The focus in the sermon was on Psalm 104:27-28. 
"We wait for Him who gives food in due season and gather what comes from His open hand"  Continue reading →

Everybody is Heartily Welcome!
We encourage you to explore the website for more information about the New Apostolic Church and at the same time you can get a brief overview of the doctrine of our faith and our organization
Above all, we invite you to visit our congregation and experience the warmth of the fellowship prompted by the love of Jesus, the teaching of the Holy Spirit and the anticipation of God's marvelous plan for the future that awaits us.
For more information about the doctrine of our faith and our organization globally, please visit the website of the New Apostolic Church International.
---
We hope you enjoy your stay! If you have any questions please feel free to contact us.
Singapore is an island nation country. A young and multi-racial nation, which is only 43 years old of age. Though a small and young, it has come a long way since it gained independent as a nation. 90% of its people are off spring of immigrants from China, India and Malaysia. And it is amazing how its people can live in racial harmony. This is in fact one of the charms of Singapore.
---
Service Time: Every Sunday at 10:30 am