nacsingapore
Due to Singapore members are invited to Kuala Lumpur for 
Chief Apostle's service, hence, there is no Divine Service 
on 27 October 2019 in Singapore.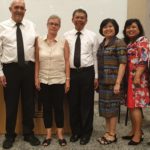 The wheel of time is turning in Singapore. Sunday, 18th August 2018 Evangelist Graf placed into a well deserved retirement in a divine service where 78 members gathered for the service conducted by District Apostle Edy Isnugroho and accompanied by Apostles Samuel Hadiwidagdo and Fred Wolf. Continue reading →
Pentecost Divine Service – Live Transmission from Germany
Date: 9 June 2019
Venue: Ibis Hotel, Jasmine Room
Time: 3:30 pm
Ascension Day Divine Service:-
Date – 30 May 2019
Time – 7:30 pm
Venue – Ibis Hotel at Bencoolen, Jasmine Room
Friday 19 April 2019 Good Friday Divine Service at 10:30 at the IBIS hotel, Jasmin room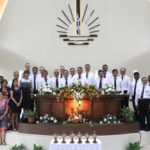 During this weekend from 12 to 14 January 2019, the Apostles as well as national rectors, and administrative executives gathered in Jakarta to attend the Annual Convention of the NAC Southeast Asia and discuss a number of topics including the implementation of the concept of ministry and preparation for IYC 2019 in Düsseldorf. Continue reading →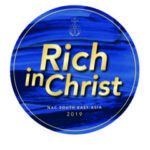 The Chief Apostle addresses the faithful world-wide with a personal New Year's address. "Rich in Christ" is the motto for the year 2019 and the message of our Chief Apostle explores the wealth we have received through our faith in Jesus Christ. It is a wealth that we both treasure and share with our neighbour in word and deed. HAPPY NEW YEAR Continue reading →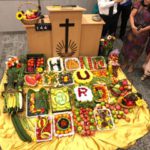 As a every year on first Sunday October, the New Apostolic Church in Singapore celebrated its Thanksgiving. The altar was decorated with the produce from the field commemorating gratitude for the daily bred we ask from God for each other in the Lord's prayer.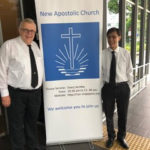 Singapore is widely known as a multinational congregation. Its members come from 13 different countries. District Apostle Urs Hebeisen and District Apostle Helper Edy Isnugroho together with Apostle Fred Wolf on Sunday, August 12, 2018 served the congregation there. A meeting with the Malaysian ministers on Saturday began the visit in Singapore. Continue reading →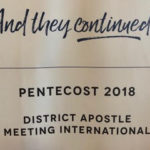 The District Apostles from all over the world gathered in Washington DC for their first annual meeting. Their wives visited a charity organization, also the Bible Museum and engaged in a discussion on the early church.
After intensive deliberations during 2 days they made a short sightseeing tour visiting Arlington cemetery, the Lincoln Memorial and the Vietnam Veterans Memorial. An exhibition on various NAC programs rounded the program up. Continue reading →