There is so much that competes for our attention, and we have to set priorities… But what really matters? Here is an answer from Chief Apostle Schneider. The new issue of community also features aspects of the Church's teachings, people who share our faith, and congregational life around the world.
What is truly important in life? Chief Apostle Jean-Luc Schneider responds to this question in his editorial. Briefly and concisely, he explains what matters.
And he makes the point of addressing something special: "…when it comes to our children, it is important that we think about what is truly important for salvation. We do not want to impose our own way of life on them. What we want is that they can experience God as we experience Him. This is what is important!"
Pastoral trips: real and digital
Even during the pandemic, the Chief Apostle found ways of conducting divine services for the brothers and sisters. These include cross-over services, in which co-officiants and music were piped in via video transmission; and they include broadcasts to local television and radio stations. The traditional ways of broadcasting via satellite or IPTV were also used.
At Tabitha's in Ghana
In this issue, we visit young Tabitha in Tema, Ghana. She tells us about her home town, a big city near the Ghanaian capital of Accra, the overseas cocoa trade, a spicy snack called kelewele, and a newly learned song that she sang with the other children during a special divine service.
community: the global magazine
community has been the member magazine of the New Apostolic Church International since 2015. On 32 pages, readers will find thoughts from divine services by the Chief Apostle, reports on the life in various congregations around the world, information on the activities of the Church's aid organisations, interesting facts about our doctrine, and Bible stories for children.
The magazine is published by the New Apostolic Church International in three languages: in English, French, and Spanish. Translations into additional languages are co-ordinated regionally by the fifteen District Apostle Areas. community can be read as a digital magazine on nac.today. It is also produced as a print edition in many countries and distributed to the members there who have no or only limited internet access.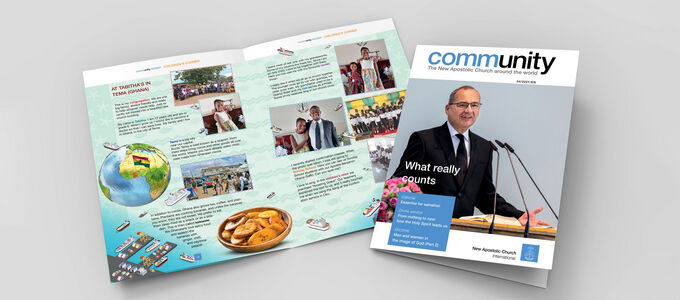 Photo: New Apostolic Church International