But thanks be to God, who gives us the victory through our Lord Jesus Christ!  
VICTORY WITH CHRIST. With this  message based on 1. Corinthians15:57 the Chief Apostle sets a powerful accent for the year 2016. With the Lord's promise
Because I live, you will live also
(John 14:19) we know we can share in His victory. The victory to be achieved this year shall be a victory over evil. Remaining faithful, obedience to the law of God out of Love for Jesus and doing good even we ourselves have been victims of evil, are important victories requiring often a fight over ourselves. A fight to overcome pride, prejudice by accepting those who are not like me and the prompting to speak our thoughts and disturb peace. Victory over ourselves, is indeed very important to succeed towards the goal of salvation.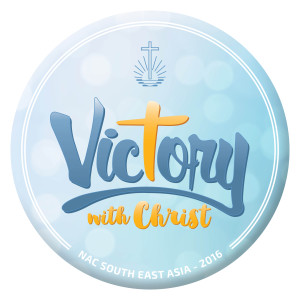 All of us have to plan for the future and thereby can easily be overwhelmed by worry. Let us become victorious over fear. Adverse circumstances will be visible and perceived all over around us. It will not go away yet with Jesus we can overcome it. We believe in the victory of Christ and continue to trust in Him. When making important decisions we shall not be guided by fear; Christ has come to guide us and help us unto victory.
Victory with Christ will be obtained by believing without seeing, having all our actions motivated by the love for Christ. Without endurance there will be no victory and last but not least, we need one another in order to overcome and therefore unity in the congregation, in family, in our relationships with the brothers in the ministry and our willingness to offer and sacrifice will lead us to oneness the VICTORY WITH CHRIST.
Blessed New Year to all, a year  filled with many a personal victory over evil, fear and ourselves. God bless!
See and hear our Chief Apostle on nac.today. click… http://nac.today/en/a/292235